04 Mar 2020
In an interconnected world, the need to develop global outlook is more important than ever. Today's students are required to appreciate diverse perspectives, adapt to different cultures and understand the impact of global events on their lives.
More and more schools in India are embracing international curriculum to prepare students for the future, and in particular they are adding Cambridge Global Perspectives to their curriculum. This skills-based programme helps students broaden their outlook through the critical analysis of – and reflection on – issues of global significance. The subject taps into the way today's students enjoy learning, including group work, seminars, projects and working with other students around the world.
Below, students from schools in India describe how Cambridge Global Perspectives has helped them.
Shawn Chauhan – Dhirubhai Ambani International School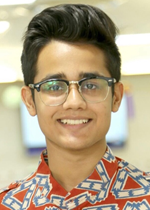 'The variety of projects and research offered under the Cambridge IGCSE Global Perspectives course seemed to offer extremely interesting opportunities for me,' said Shawn, who plans to pursue engineering, technology and business in future.
'The Individual Research Report gave me an insight into the specifics of how to write research papers, while the Team Project taught me how to cooperate and collaborate while working in a group. Moreover, Global Perspectives enhanced my critical thinking, analysis, reflection, research, communication and teamwork skills. I strongly believe that everything I absorbed from Global Perspectives during the Cambridge IGCSE qualification will help me learn, reflect, research and communicate better in any field I choose to study.'
Sharanya Sanjay – Vidyashilp Academy
When asked why she opted for Cambridge International A Level Global Perspectives & Research, Sharanya had a simple answer: 'I chose Global Perspectives out of curiosity.'
Elaborating on what her curiosity was for, she said: 'Curiosity about the world we live in, its issues and how they are handled. I wanted to give myself a deeper understanding of how the world works, and how different people and their influences lead them to think in such different ways.'
'I continue to develop dexterity for formulating my own opinions, as well as looking at and analysing those of others objectively. I believe Cambridge Global Perspectives will come to aid me in my career in law.'
Daivik Chawla – Dhirubhai Ambani International School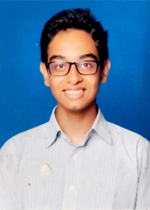 'I chose Cambridge IGCSE Global Perspectives because I wanted to learn how to develop skills that could help in a diverse range of subjects in the future,' said Daivik, who took his exams in 2018. He added: 'The subject exposed me to various topics such as changing communities, digital world, and education. I plan to study psychology in the future, and I think the Global Perspective skills of research methodology, logical reasoning and structuring responses will certainly help me as they can be directly applied in the field of psychology.'
Shivani Ayyar – Choithram International School
Shivani chose Global Perspectives as one of her Cambridge IGCSE subjects and excelled in her exams in 2016. She said: 'Global Perspectives acted as a useful medium to widen my scope of analysis about daily life issues, which are significant on a global, national and even local scale. The project work helped me to gain further insight into topics that are worth discussing.'