Success in Cambridge qualifications opens doors to universities worldwide. Universities tell us they value the deep subject knowledge, independent research and critical thinking skills that Cambridge qualifications bring.
This guide summarises the key admissions requirements for study in popular destinations for Cambridge students. It also highlights some of the higher education institutions that recognise Cambridge qualifications. For a more comprehensive list, search our recognition database at www.cambridgeinternational.org/recognitionsearch
Please always check entry criteria with institutions before applying.
100% of university admissions officers say Cambridge programmes give students excellent preparation for university
Cambridge International survey of admissions officers, 2018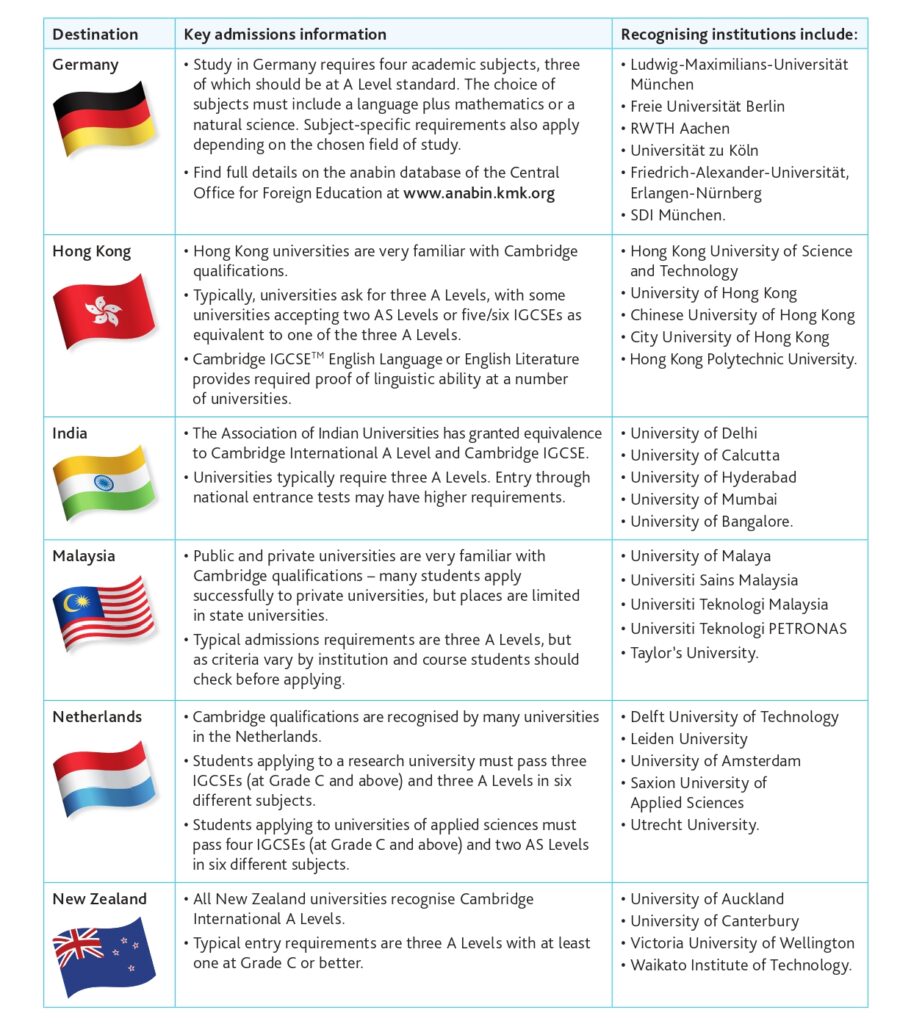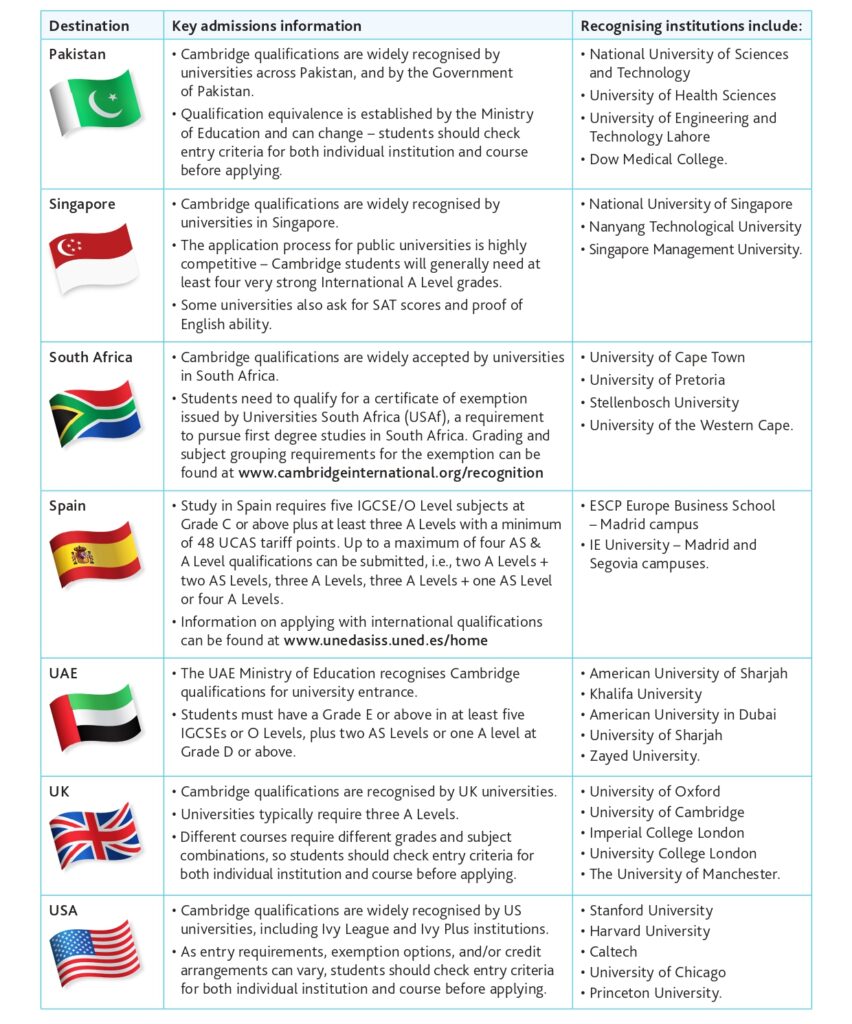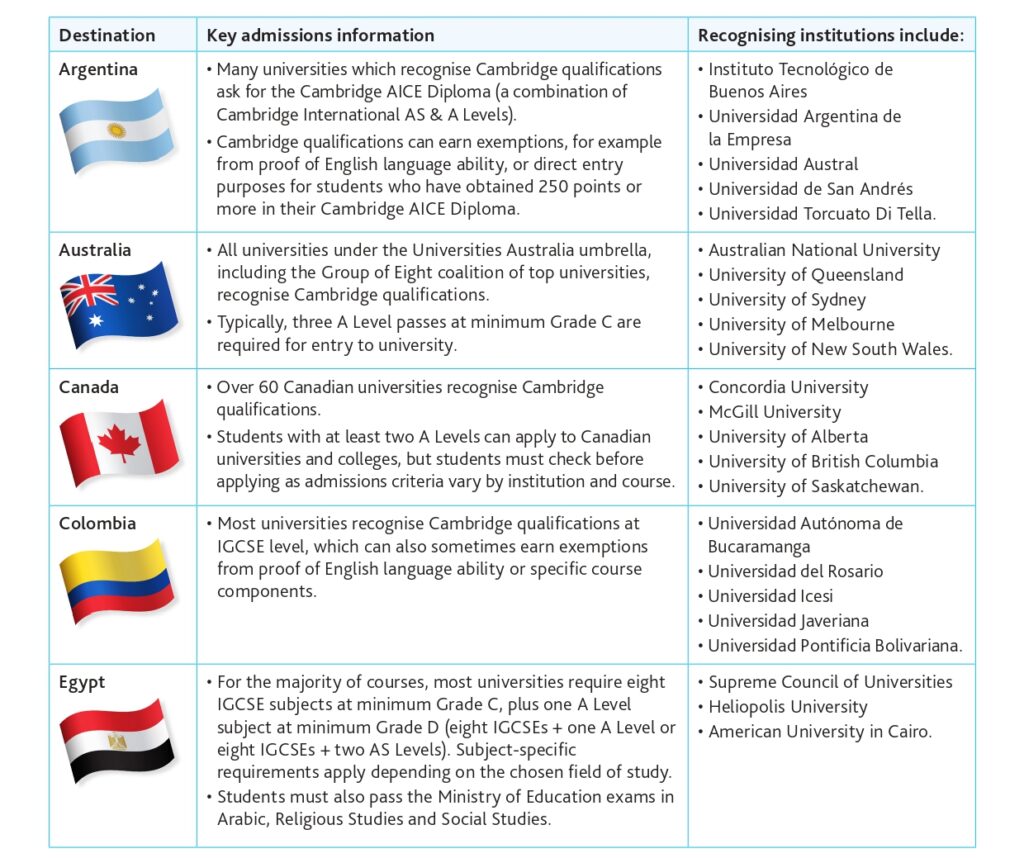 Applying to university with Cambridge qualifications
Key advice for students
• Check admissions criteria before applying: Admissions criteria vary between institutions and courses, and are subject to change. In countries such as the US and Canada, students with good grades in Cambridge qualifications may also be eligible for course credits or advanced standing, reducing the length and cost of their studies.
• Confirm language requirements: Students planning to follow an academic course delivered in English may have to demonstrate a specific level of English language proficiency as part of the admissions process. Cambridge qualifications are often accepted as evidence of such proficiency.
• Research target destinations: Students planning to study in a different country will also need to undertake detailed research into issues ranging from visa requirements to local culture.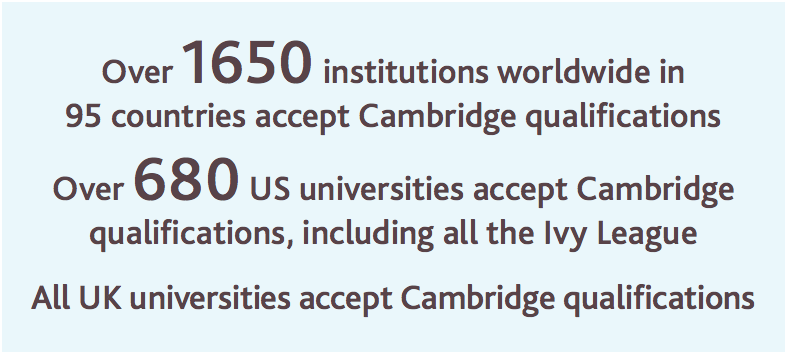 Useful resources
Recognition database
Search our online directory to find out which universities worldwide recognise Cambridge qualifications, and see their entry criteria. Go to www.cambridgeinternational.org/recognitionsearch
Country-specific guidance
We publish a range of Destination brochures to give students advice on applying to institutions in countries including Australia, Canada, India, Pakistan, South Africa, the UK and US. You can also find videos on our website filmed in popular student destinations, with advice from admissions officers and former Cambridge students.